The Complete Animal Communication Formula
Connect, Send, and Receive Messages from the Pets you Love in 8 Simple Steps
Watch Promo
Can My Pets Really Talk to Me?
Yes!
You will be amazed at how much they know...
Your pets love you and want to share their thoughts and feelings. Whether your pet is alive and well, aging, or departed, they can send you mental messages, feelings, and more.
This self-paced, online, confidence-boosting beginner's course will reveal my eight simple steps to connect, send, and receive messages with any animal, including your beloved pets.
Bonus! Practice modules include live pets and those in the afterlife.
Scroll to the bottom for the full curriculum.
With my guidance, you'll be amazed at how fast you can get clear and accurate messages from the animals.
As the #1 Bestselling author of, "The Amazing Afterlife of Animals", winner of 19 national and international literary awards, you also get my secrets of communicating with the Other Side.
I will share everything you need to start your Animal Communication journey. If you know how to communicate with animals, I will show you how to sharpen your skills and intuition and get amazingly accurate messages.

Who is this course for?


If you love your pets more than anything, this course is for you. If you are in the pet industry, this course will enhance your connection and understanding of behaviors, health concerns, end-of-life issues, and the afterlife.
"Karen's class combined the flexibility of learning at home with the insightful, personalized guidance from an experienced teacher." ~ Leslie R.
You will be able to:
Know how to connect to any animal living or departed.

Receive visual, audible, or sensing messages.

Understand your pets on a deeper level.

Develop life skills to launch your path in the pet industry or animal communication
This program will show you how to:
Be more in tune with your pet's needs

Open communication with pets in the afterlife.

Experience the world through the animal's eyes.
"This is an excellent way to develop your intuitive skills even if you aren't interested in the "animal" part. Excellent and timely feedback on coursework. This course helped me strengthen my confidence in my intuition." ~ Donna B.
That's just the beginning.
There are no group meetings. This course is SELF-PACED.
Log in when you are ready and practice at your convenience.
Get ready for the easy steps to follow:
How to prepare your mind, spirit, and surroundings for clear communication

How to properly open a communication session

How to adjust your energy and focus your intention for the clearest messages

How to hear, see, or feel actual telepathic messages from your pets

How to communicate any message clearly and effectively with your pets

How to properly end a communication session and close down your energy field
Also included:
Practice sessions with pets (Living & Afterlife Modules)

Quizzes to test your skill instantly

Email support

Self-paced so no group meetings

Lifetime access to all course materials

Access to new content at no extra cost

VIP specials for enrolled students

Confidence boosting personal attention from me, not an assistant.
"I have very much been enjoying the course. Being able to verify things that I'm getting as true has been an overwhelmingly grateful experience.
You have some very amazingly kind teachers for animals. Thank you for everything!" - Elizabeth
Once you have spiritually communicated with an animal
You will never again see the world through the same eyes.
The magical wonder of it all will change you forever.

"I really loved this course!! Karen is a lovely teacher who empowers us and explains everything clearly." - Terri
It will open your mind to a whole new world of inter-species communication.
Your long-forgotten intuitive abilities will awaken.

And most importantly, you will create a closer, more loving bond with the pets you love.
Prerequisite:
You must love animals!

Be excited to learn and open to the process

Follow my guidance and complete the exercises in each section

Beginner level or if you need a 'tune-up,' this is your course
What this course is NOT about:
- Animal behavior
- Animal body language
- Animal psychology
- Healing Modalities such as Reiki or Tapping
What others are saying:
"I discovered that, in some ways, I have always communicated with animals. I've always loved animals ever since I was a little girl. This course showed me I can take this connection further and develop this ability. I'm excited to move forward!" - Debbie
"This program is priceless. I learned how to listen to the thoughts that would pop into my head, and I have been communicating with my recently deceased dog, Lucy, and my other two living dogs, Jackson and Sophie." ~ Russ M.
"With Karen's feedback, I learned the steps easily. I'm amazed at the detailed messages I received the first time." ~ Frank G.
"The way this course is presented is so easy to follow and understand. Anyone who wants to start learning this incredible experience or someone who knows they can do it, this is it. This course is perfect." ~ Sandra
"I learned so much, and I love that I can log back in any time to continue to practice.~ Carol Werner
"Karen's course is easy to follow and interesting, and she provides feedback in every module. Others charge ridiculous amounts for their courses, but Karen cares about each student's success." - Marty Bullard
"This course was priceless! Just Karen's feedback was worth more than what I paid." ~ Jeanine Hollenbeck
Recommended reading: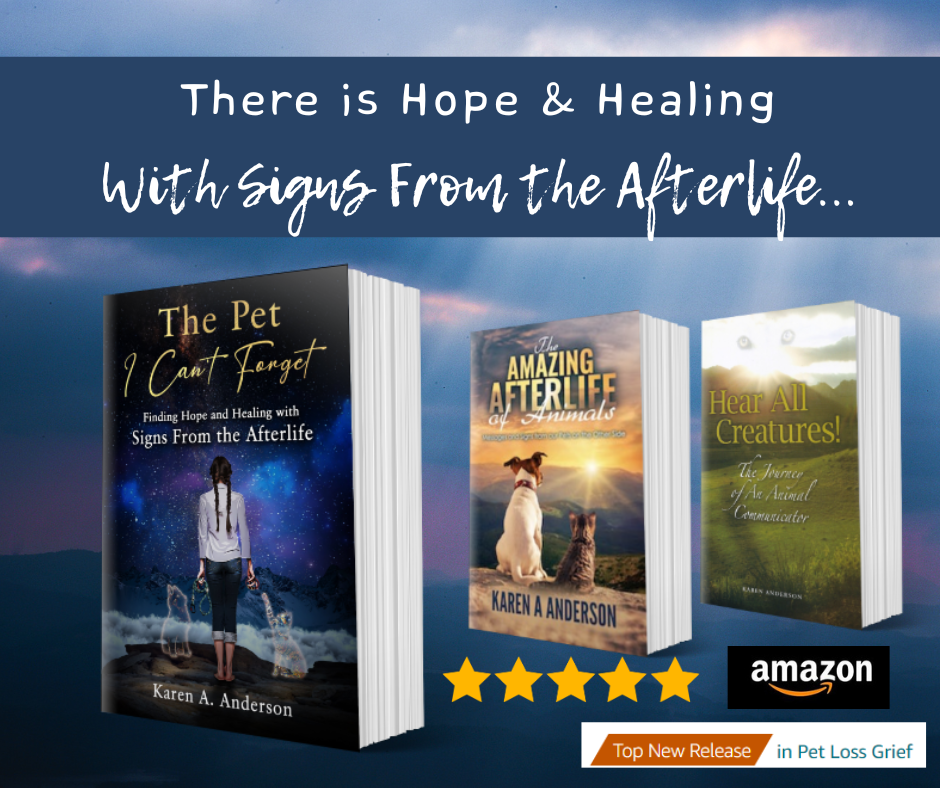 The Amazing Afterlife of Animals & Hear All Creatures
Also on Audible
Results are not typical. Each person will have their own experience and your results may vary with the amount of time and effort you invest.
Your Instructor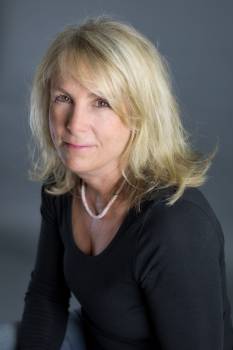 Karen Anderson is an extraordinary author, renowned Animal Communicator, and dedicated Pet Loss Specialist. With an illustrious career spanning over 25 years, Karen has touched the lives of countless pet parents, guiding them through heart-wrenching loss to discover solace and renewal.
As an award-winning author, Karen has fearlessly documented her awe-inspiring journey, unveiling the mysteries of the animal afterlife in her international #1 bestseller and award-winning masterpiece, "The Amazing Afterlife of Animals." This groundbreaking work garnered critical acclaim and the adoration of readers worldwide, cementing Karen's status as a literary luminary in the realm of pets.
Building on her triumph, Karen's first book, "Hear All Creatures," swiftly ascended the ranks as a beloved bestseller. Delving deeper into her profound ability to communicate with animals, Karen mesmerizes her readers, providing an intimate glimpse into the fascinating inner worlds of our beloved companions.
Driven by a passion for exploring the untold tales of pets, Karen collaborated with the esteemed Dr. Patricia Carrington, PhD., for the enchanting publication, "The Secret Inner Life of Pets." Their combined expertise creates a captivating narrative, revealing our cherished animal friends' extraordinary bonds and hidden depths.
Ever the visionary, Karen further showcases her versatility as a co-author of "Amazing Paranormal Encounters, Vol. 2," leaving readers enthralled with spine-tingling tales of inexplicable phenomena and captivating encounters from the ethereal realm.
Beyond literature, Karen is a dedicated mentor, offering transformative Animal Communication coaching programs suitable for all levels of expertise. Through her guidance, individuals unlock their innate ability to connect with animals, forging profound bonds and deepening their understanding of the animal kingdom.
Unyielding in her mission to enrich the lives of all creatures, Karen's compassion extends beyond the written word. She has established the Painted Rain Ranch, a non-profit animal sanctuary and final refuge for companion animals in the Inland Pacific Northwest. This noble endeavor is a testament to Karen's enduring commitment to providing love, care, and sanctuary to those in need.
Prepare to embark on an extraordinary journey with Karen Anderson, an author whose words resonate with the deepest corners of our hearts. Her remarkable insights, unwavering compassion, and unwritten tales of love and loss will forever change how you view the world of pets.
Join Karen as she unveils the secrets that lie within, touching the lives of humans and animals alike, and discover a profound connection that transcends the boundaries of this world and the next.
Proceeds from this course, books and coaching benefit the animals on the ranch
Honors and Awards - 'The Amazing Afterlife of Animals"



#1 Bestseller on Amazon




Winner 2018 International Book Awards – Animals/Pets




Winner 2018 Next Generation Indie Book Awards




Winner 2018 Pinnacle Book Achievement Award




Winner 2018 Indie Book Awards




Winner 2018 New Apple Book Awards - New Age




Winner 2018 Beverly Hills Book Awards - Grief




Silver Medal Winner – 2017 Nautilus Book Awards




Silver Medal Winner - 2018 Readers Favorite Awards





Finalist 2018 Beverly Hills Book Awards - Pets




Finalist 2018 International Book Awards – New Age/Non-Fiction




Finalist 2018 International Book Awards – Spirituality/Inspirational




Finalist 2018 International Book Awards – Best Cover Design Non-Fiction




Two 5-Star Reviews from Readers Favorite Book Reviews





Finalist 2018 "Best Book Awards" Non-fiction - Pets




Finalist 2018 "Best Book Awards" Non-fiction - New Age




Finalist 2018 "Best Book Awards" Non-fiction Best Cover Design



Course Curriculum
First Section - Welcome!
Available in days
days after you enroll
Second Section - How to Send and Receive Messages with Animals
Available in days
days after you enroll
Section 3 - Practice Session with Beanie (Living Pet)
Available in days
days after you enroll
Frequently Asked Questions
When does the course start and finish?
The course starts now and never ends! It is a completely self-paced online course - you decide when you start and when you finish.
How long do I have access to the course?
How does lifetime access sound? After enrolling, you have unlimited access across any devices you own.
What if I am unhappy with the course?
We would never want you to be unhappy! If you are unsatisfied with your purchase, contact us within 14 days and we will give you a full refund.